What Is Oxidation And How Does It Affect Engine Oil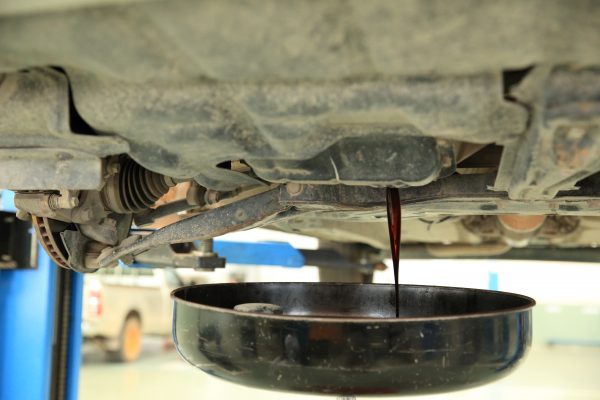 What Is Oxidation?
Oxidation occurs when the addition of oxygen changes a chemical substance. Using an apple as an example. Oxygen will quickly cause a cut apple to turn brown. Or metal, oxygen can cause rust to form on some metals in a matter of days. Have you ever noticed your brakes grinding after having left your car sit for a couple days in wet weather? That sound is your brake pads scouring rust from the rotors.
Motor oil isn't immune to oxidation. As oil reacts with oxygen, a permanent chemical change occurs that causes oil molecules to lose one or more electrons.
Several problems can evolve from this, including…
Formation of sludge and deposits that reduce engine efficiency and increase the risk of engine failure
Increased oil viscosity, which reduces fuel efficiency
Additive depletion, reducing the oil's effectiveness
Accelerated degradation, causing you to change oil more often
Heat Speeds Up The Oxidation Process
Every 18°F (10°C) increase in temperature doubles the rate of oxidation. That doesn't bode well for motorists driving modern turbocharged vehicles that create increased heat compared to older vehicles.
Heat isn't the only oxidation accelerant – certain metals, acids and water can also hasten oxidation. So can large volumes of entrained air, known as foaming.
Can Oil Oxidation Be Prevented?
Unfortunately, no. Nature is a relentless force, and all motor oil will eventually oxidize to some extent. However, we can dramatically slow oxidation through use of synthetic base oils and quality oxidation-inhibitor additives.
Did You Know?
AMSOIL synthetic lubricants are formulated using base oils with a saturated molecular structure, meaning oxygen is prevented from attaching. This provides built-in heat and oxidation stability compared to unsaturated conventional oils.
As well, since AMSOIL synthetic lubricants don't contain contaminants like conventional oils, their base composition doesn't accelerate oxidation.
AMSOIL synthetic lubricants also contain high-quality oxidation inhibitors. These additives are sacrificial in nature, meaning they're designed to deplete over time. Because AMSOIL synthetic lubricants have built-in oxidation resistance, their oxidation inhibitors last longer since they don't deplete as rapidly.
What does this mean to me and my car or truck or motorcycle?
It means you can rely on a motor oil that:
Lasts longer despite intense heat and stress
Helps keep your engine cleaner and more efficient
Saves money in the long run through reduced maintenance
While oxygen around you lets you breathe, AMSOIL synthetic motor oil lets you breath easier since your engine is protected against oxidation.
Engine sludge
It's a back gelatinous substance that wreaks havoc in engines. And long before the engine's demise, engine sludge can foul engine sensors and interfere with performance. Some mechanics call it the "black death."
How does motor oil, which is fluid, become a semi-solid paste or gel inside an engine?
How engine sludge forms
Engine sludge is the result of a series of chemical reactions.
The lubricant degrades as it is exposed to oxygen and elevated temperatures. The higher the temperature, the more rapid the rate of degradation. In fact, every 18°F (10°C) increase in temperature doubles the rate of oxidation.
The by-products of this reaction form highly reactive compounds that further degrade the lubricant. Their by-products react with other contaminants, forming organic acids and high-molecular-weight polymeric products. These products further react, forming the insoluble product known more commonly as "sludge".
What begins as a thin film of lacquer or varnish deposits on hot or cold metal surfaces and bakes into an expensive mess.
The effects of engine sludge
Sludge can block the oil passages and oil-pump pick-up screen, resulting in oil starvation. Often, the negative effects are cumulative rather than sudden.
Many engines with variable valve timing (VVT) use oil-pressure-operated mechanical devices to change valve timing, duration and lift. Sludge can plug the solenoid screen or oil gallies and impact the operation of VVT mechanisms, eventually leading to a costly repair bill. Sludge reduces efficiency and increases time and money spent on maintenance.
Severe service invites engine sludge
Equipment operating conditions also influence the likelihood of sludge or varnish issues.
Stop-and-go driving, frequent/long-term idling and operation in excessively hot or cold weather can increase the likelihood of sludge and varnish, especially if using more volatile conventional oils. If sludge has already formed, you can use an engine flush to clean sludge from your engine.
Interestingly, most auto manufacturers note in their owner's manual that operation under any of the above conditions is considered severe service and requires more frequent oil changes.
From a mechanical standpoint, things like adding too much oil to the oil sump, antifreeze contamination, excessive soot loading, excessive oil foaming, poor engine-combustion efficiency, excessive blow-by and emission-control-system issues can all lead to the formation of sludge and varnish.
By practicing good maintenance and using properly formulated, premium synthetic lubricants, like AMSOIL synthetic motor oil, your vehicle won't succumb to the "black death."
Search For AMSOIL Products