AMSOIL OE Synthetic Motor Oil: Peace-of-Mind Protection

"Guide to AMSOIL OE Synthetic Lubricants
AMSOIL OE Synthetic Motor Oil is specially formulated for the longer oil change intervals recommended by vehicle manufacturers today. Its advanced synthetic technology resists chemical breakdown for maximum wear protection (and peace of mind) well beyond the traditional 3,000-mile/5,000-km oil change interval. It is recommended for the intervals stated by the vehicle manufacturer or as indicated by the oil life monitoring system. These Synthetic Motor Oils are multi-viscosity formulations.
AMSOIL OE provides:
Excellent Wear Protection
Remains Fluid in Extreme Cold
Resists Boil Off in Extreme Heat
Aids Fuel Economy
Convenient Access to Options



Videos: AMSOIL Basics
OE Synthetic Motor Oil - Formulated for Excellent Engine Protection and Performance
Provides Advanced Wear Protection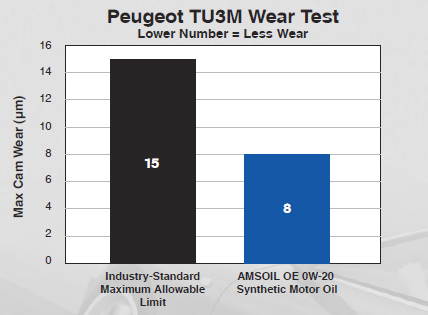 OE Synthetic Motor Oil provides excellent wear control and protects critical engine parts like pistons and cams. This added protection is particularly important in the extreme environments produced by today's smaller displacement engines that often run lower viscosity oil. Camshaft wear can result in poor valve timing, greatly reducing engine efficiency and leading to expensive repairs. The Peugeot TU3M Wear Test (CEC L-38-A-94), which must be passed to meet the GM* dexos1® Gen 2 specification, determines a motor oil's ability to limit wear. For 100 hours the four-cylinder test engine is subjected to extreme, wear-inducing conditions. AMSOIL OE Motor Oil provided 47 percent more wear protection 1 than required by the GM dexos1 Gen 2 specification.
OE Synthetic ATF - Excellent Wear Protection, Sludge Resistance and Extreme-Temperature Performance
AMSOIL OE Synthetic Automatic Transmission Fluid provides passenger-car/light-truck transmissions excellent wear protection, sludge resistance and extreme-temperature performance throughout original equipment manufacturer (OEM)-recommended drain intervals.

CVT's require a unique transmission fluid with specialized frictional characteristics designed to ensure the belt or chain remains in contact with the pulleys without slipping. AMSOIL Synthetic CVT Fluid provides metal-to-metal frictional properties and excellent protection and performance for CVTs throughout vehicle manufacturer-recommended drain intervals.
Quality Oil Filters to Match the Drain Interval
Comments (0)

Share your comments
or ask a question