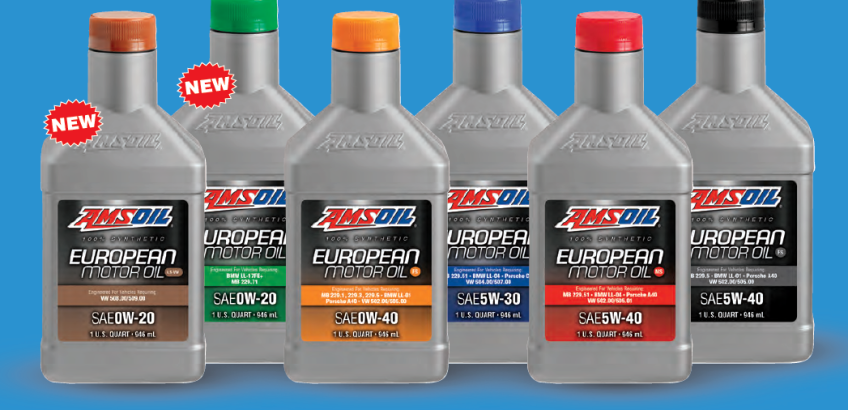 AMSOIL European Car Formula Evolves


AMSOIL Synthetic Euro Oil is a premium quality, high performance full synthetic oil formulated for use in European vehicles
European performance and styling define a culture of exceptional engineering. AMSOIL matches that devotion to precision by engineering oil that exceeds the demands of your European vehicle. When excellence is required, you need AMSOIL.
Synthetic oils, though more expensive than natural options, allow you more mileage between oil changes, perform better at lower and higher temperatures, and also are designed to help clean your engine, keeping it free from build-up.
AMSOIL European Car Formula Synthetic Motor Oil delivers long-lasting performance and protection in gasoline and diesel European cars/light trucks, letting you confidently take advantage of the maximum extended drain intervals recommended by European automakers today. Not only does European Car Formula deliver the value of extended drains, it helps save on maintenance due to its outstanding wear protection and all-season performance. European Car Formula is formulated for optimum fuel economy, and advanced turbocharger protection which helps reduce maintenance costs.
AMSOIL European Car Formula Features and Benefits
Engineered to meet European manufacturers' specifications for gasoline or diesel engines
Shields engines from the high temperatures produced by turbochargers
Fights sludge for superior engine cleanliness
Low volatility for reduced oil consumption
Low pour point protects turbo-chargers against oil starvation
Forumlations are emission systems compliant
Ryan Kimble has been using AMSOIL products in his 2003 Volkswagen Passat 1.8T since he purchased it with 24,000 miles on it. He put AMSOIL European Car Formula 5W-40 Full SAPS Synthetic Motor Oil (EFM) in the engine and never looked back. "The only oil I have ever, or will ever, use is AMSOIL" Kimble said.
According to Kimble, a common problem among Wolkswagen owners with the 1.8T is oil sludge, which causes premature turbo and engine failure well in advance of reaching 100,000 miles. Kimble, on the other hand, has never experienced problems with sludge.
Kimble noted, "I have never seen any other brand of oil look as good after 8,000 miles as AMSOIL." He also compared the performance and protection of AMSOIL products to other brands and said, "I use nothing but AMSOIL lubricants in all my vehicles for every lubricant. Don't waste you money on anything else."
Richard Nyguist, of Manheim, Pa. has used AMSOIL 5W-40 Synthetic European Motor Oil since the car (2004 VW R32) was new. "In the early days, it was serviced under VW's new-car service agreement, and I took the oil with me and told them, 'This is the oil that's going in it.'" He changes oil about every 12,000 miles (19,300 km).
AMSOIL motor oil has performed flawlessly in the engine ever since, which recently hit 300,000 miles (482,800 km). Recently, the front differential failed, which required extensive work to repair. Nyguist had also noticed his engine was wet from oil. "It wasn't leaking profusely or dripping, it was just wet," he said. "And we'd never done the timing chains, which a lot of people change at 100,000 miles (160,934 km) or even less."
So, while repairing the differential, his mechanic pulled the engine apart and changed the timing chains and head gasket. What he saw inside surprised him.
"He was completely shocked and surprised by how clean the cylinder head was. Normally he'd see sludge in cars with similar miles," said Nyguist. There was also no sign of a groove at the top of the cylinder bores where the piston ring rubs against the cylinder at the top of its stroke. "There was barely any varnish in the engine, which was quite surprising," said Nyguist.
For more than 18 years, Preferred Customer Ilya Moshenskiy of Redmond, Wash. has trusted AMSOIL synthetic lubricants to keep his 1998 BMW on the road.
"I'm a long-term customer. (I've) personally put over 400k miles in the driver seat," Moshenskiy said. "I have owned my 1998 BMW 528i* for over 18 years. It's still in the condition I remember it being when I first drove it off the dealer lot. Since day one, I have been doing my own oil changes exclusively using AMSOIL."
Moshenskiy said he depends on the car in all conditions.
"My car has been a workhorse getting me through thick and thin," he said. "Over the years, the 528i has been a reliable family member. It has given us countless memories over the past two decades, from the sunny beaches of San Diego to pummeling through two feet of snow in British Columbia, Canada. I know whether I'm commuting or taking it on the next road trip, my 528i will get me there. My only worry are those pesky tail light bulbs that burn out with age."
Moshenskiy spreads the word about the AMSOIL European Car Formula that has kept his BMW running for so many miles.
"Every time I start a conversation about 400k miles on the original motor, people ask what's the secret," he said. "AMSOIL is the secret; that's what you need to know. I don't think I could have logged over 400k miles if it wasn't for AMSOIL. Believe it or not, this is still my daily driver."

SAE 5W-30 LS Synthetic European Motor Oil
Engineered for vehicles requiring:
API SN, SM...
ACEA C3
BMW LL-04
Porsche C30
GM dexos 2
Chrysler MS-11106
MB 229.51
Manufacturer Approvals: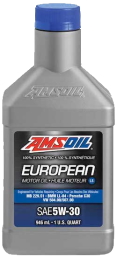 5W-30
SAE 5W-40 MS Synthetic European Motor Oil
Engineered for vehicles requiring:
API SN, SM, CF...
ACEA C3
Chrysler MS-10850
GM dexos 2
VW 502.00, 505.01
Ford WSS-M2C917-A
Renault 0700, 0710
BMW Longlife-04
Manufacturer Approvals: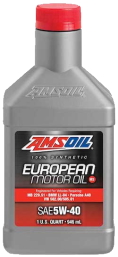 5W-40
SAE 5W-40 FS Synthetic European Motor Oil
Engineered for vehicles requiring:
BMW LL-01
API SN, SM...
ACEA A3/B3, A3/B4
GM LL-B-025
Renault 0700, 0710
Manufacturer Approvals:
MB-Approval 229.5
Porsche A40
VW 502.00, 505.00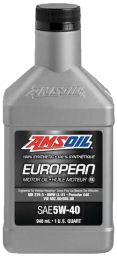 5W-40
SAE 0W-40 FS Synthetic European Motor Oil
Engineered for vehicles requiring:
VW 502.00, 505.00
API SN, SM
ACEA A3/B3, A3/B4
BMW LL-01
Porsche A40
Renault 0700, 0710
MB 229.1, 229.3, 229.5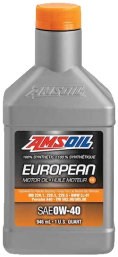 0W-40
SAE 0W-20 LS Synthetic European Motor Oil
Engineered for vehicles requiring:
BMW LL-17FE+; MB 229.71
API SN-PLUS (Resource Conserving), SN, SM
ILSAC GF-5
ACEA C5, A1/B1
Ford WSS-M2C947-B1
Opel/Vauxhall OV0401547
Fiat 9.55535-GSX
Chrysler MS-12145
Volvo VCC RBS0-2AE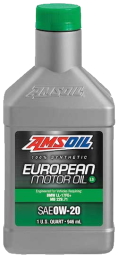 0W-20
SAE 0W-20 LS-VW Synthetic European Motor Oil
Engineered for vehicles requiring:
VW 508.00/509.00
API SN-PLUS
ACEA C5
Recommended for the extended drain intervals established by the vehicle manufacturer.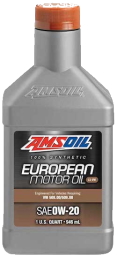 0W-20