European Car Formula Evolves
AMSOIL Synthetic Euro Oil is a premium quality, high performance full synthetic oil formulated for use in European vehicles
European performance and styling define a culture of exceptional engineering. AMSOIL matches that devotion to precision by engineering oil that exceeds the demands of your European vehicle. When excellence is required, you need AMSOIL.
Synthetic oils, though more expensive than natural options, allow you more mileage between oil changes, perform better at lower and higher temperatures, and also are designed to help clean your engine, keeping it free from build-up.
AMSOIL European Car Formula Synthetic Motor Oil delivers long-lasting performance and protection in gasoline and diesel European cars/light trucks, letting you confidently take advantage of the maximum extended drain intervals recommended by European automakers today. Not only does European Car Formula deliver the value of extended drains, it helps save on maintenance due to its outstanding wear protection and all-season performance. European Car Formula is formulated for optimum fuel economy, and advanced turbocharger protection which helps reduce maintenance costs.
AMSOIL European Car Formula Features and Benefits
Engineered to meet European manufacturers' specifications
Excellent protection for gasoline and diesel engines
Fights sludge for superior engine cleanliness
Low volatility for reduced oil consumption
Low pour point protects turbo-chargers against oil starvation
Forumlations are emission systems compliant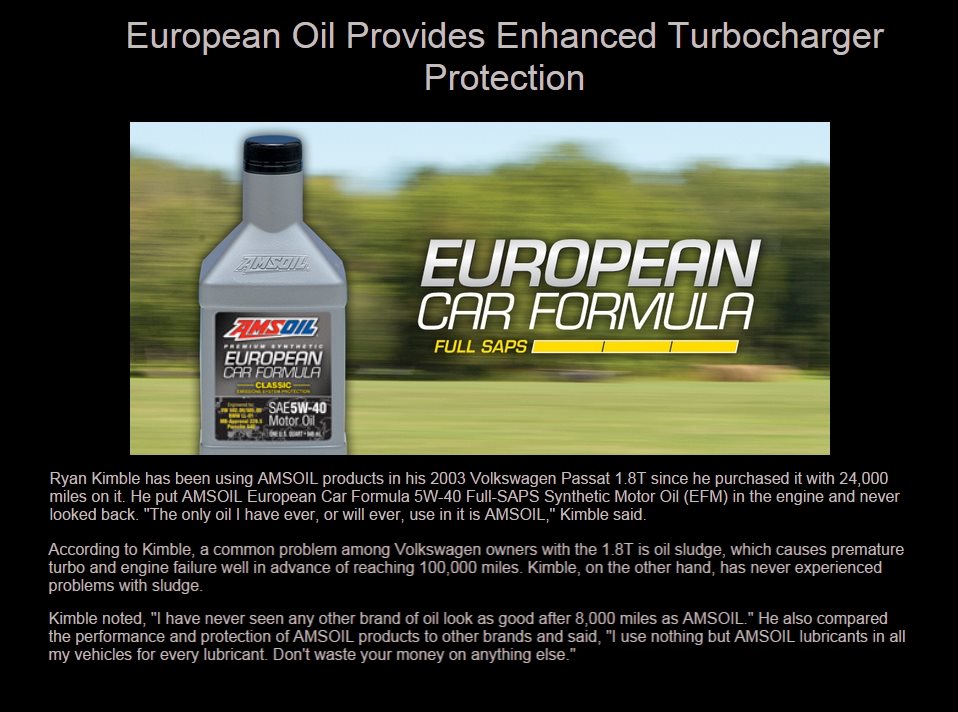 To ensure proper engine protection and optimal emissions system performance and life, it is important to use an oil that meets the recommended specification listed in the vehicles owner's manual.

Comments (0)

Share your comments
or ask a question