The Top Tier of AMSOIL Synthetic Motor Oil
AMSOIL Signature Series Synthetic Motor Oil delivers extraordinary lubrication in all types of automotive gasoline engines. By combining industry-premier synthetic technology with AMSOIL premium additives, Signature Series Synthetic Motor Oil exceeds the higher performance demands of modern engines. It withstands the stress of higher horsepower, higher heat and complicated emissions control systems. Signature Series Synthetic Motor Oil is engineered to outperform competitive conventional and synthetic motor oils. It delivers long-lasting performance and protection.
AMSOIL Signature Series provides:
Up to 25,000 Mile / 12 month Oil Change Interval
Outstanding Wear Protection
Excellent Cleaning Properties
Remains Fluid in Extreme Cold
Resists Boil Off in Extreme Heat
Aids Fuel Economy
Top of the Line AMSOIL Formulation
See The Proof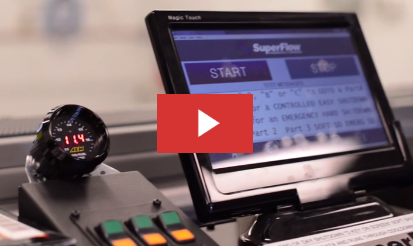 The American Petroleum Institute sets the minimum standards oil must pass to ensure it will provide adequate protection. One of these standards, the Sequence IVA Test, subjects oil to 100 hours of use to simulate stop and go driving - and measures its ability to prevent wear.

Find out how our Signature Series 0W-20 Synthetic Motor Oil performed.
How AMSOIL Signature Series Helps Preserve Horsepower
Although many motorists equate engine wear and deposits with sudden, catastrophic engine failure, wear and deposits are more likely to erode engine power and efficiency over time. Here's how it works and what you can do about it.
Several factors cause an engine to slowly lose power, but compression loss due to wear and deposits is one of the primary reasons.
Engine Compression = Power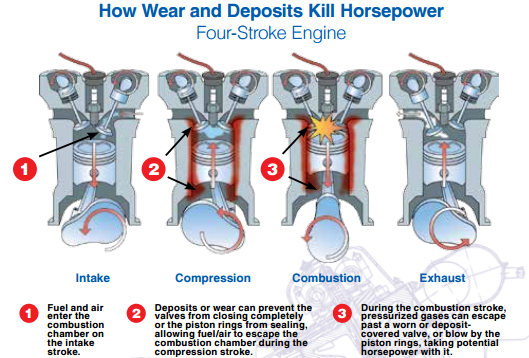 For your engine to produce maximum power, the combustion chamber must seal completely during the compression and combustion strokes. Wear and deposits can prevent the valves or piston rings from sealing, allowing pressurized gases to escape the combustion chamber and take potential engine power with them.

To illustrate, imagine using a hydraulic floor jack. Pumping the handle will raise the vehicle as long as the release valve is tightly seated and doesn't leak. A poorly sealed release valve, however, allows pressure to escape, causing the vehicle to sink to the ground no matter how much you pump the jack handle.
The same principle applies inside your engine. If some of the pressure created during the compression and combustion strokes is lost due to valves and piston rings that don't seal completely, the engine will create less power.
Wear & Deposits Reduce Compression
Over time, deposits or valve wear can prevent the valves from closing completely, interfering with a good seal. Wear can also interfere with proper valve operation, disrupting optimum fuel/air flow.
Worn or stuck piston rings produce the same effect. The rings are designed to move freely in their grooves and press tightly against the cylinder wall, forming a seal that prevents fuel/air from escaping. Ring wear can interfere with formation of a tight seal, while depositbuildup can cause the rings to stick in their grooves, also preventing a good seal. As a result, some fuel/air escapes the combustion chamber during compression, reducing power. On the combustion stroke, pressurized gases can blow by the rings and travel down the cylinder wall and into the oil sump, taking potential power with them. This is what's meant when someone says an engine has lost compression.
Signature Series Helps Prevent the Problem
AMSOIL Signature Series Synthetic Motor Oil provides 75 percent more engine protection against horsepower loss and wear than required by a leading industry standard*, extending the life of vital components like pistons and cams. In addition, it prevents piston deposits 93 percent better than required to meet the latest API standard.* Its outstanding performance helps prevent deposits and wear that rob engines of horsepower.
*Based on independent testing of AMSOIL Signature Series 5W-30, in ASTM D7320 as required by API SN specification
Videos: AMSOIL Basics
Signature Series Synthetic Motor Oil - Delivers Extraordinary Lubrication in all types of Automotive Gasoline Engines
Premium Protection Synthetic Motor Oil - Ideal for applications where the extra protection of a higher-viscosity oil is desired
AMSOIL Signature Series Automatic Transmission Fluids - Engineered to Exceed the Performance Requirements of most North American, European and Asian vehicles
AMSOIL Signature Series Synthetic Automatic Transmission Fluid is specifically formulated to withstand the rigors of heavy towing, elevated temperatures and challenging terrain. It remains fluid in sub-zero temperatures and provides reserve protection during heavy use and even abuse.
Quality Oil Filters to Match the Drain Interval