AMSOIL Dirt Bike Oil
AMSOIL synthetic oil, transmission fluid, suspension fluid for dirt bikes continues the tradition of innovation and technological advancement at AMSOIL. Hours of testing in AMSOIL chemical and mechanical labs resulted in lubricants engineered to maximize your bike's performance on the trail and at the track. Testing with professional teams in Monster Energy Supercross, AMSOIL Arenacross and AMSOIL GNCC helped further fine-tune AMSOIL Synthetic Dirt Bike Oil for outstanding wear protection and consistent clutch feel. AMSOIL Synthetic Dirt Bike Oil delivers the confidence and performance you need to get on it and get out front.
AMSOIL Synthetic Dirt Bike Oils
Ensures cool operating temperatures - Delivers maximum wear protection - Long service life - World-class, proprietary additive system and virtually eliminates oxidation and wear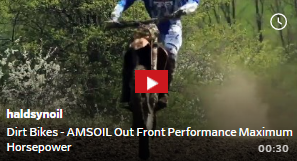 Getting out in front on the racetrack or on the trail requires every performance edge you can get. AMSOIL Synthetic Dirt Bike Oil is formulated to maximize horsepower. Its synthetic base oils reduce energy lost to friction. Meaning your engine works less to deliver more power to the ground. Helping you get out front...and stay out front.
AMSOIL Fuel Additives and Carburetor Cleaner
Degraded fuel presents a major maintenance issue in small engines and powersports equipment. It can form varnish, gum and insoluble debris that clog carburetors, fuel injectors and fuel filters. Performance robbing carbon buildup.
AMSOIL Synthetic Suspension Fluid
AMSOIL Shock Therapy Suspension Fluid has been tested and proven to be a superior, balanced product recommended for a wide range of temperatures and applications. Reduces friction and protects the system from wear and corrosion.
AMSOIL Synthetic Dirt Bike Transmission Fluid
Specifically formulated to provide consistent clutch feel, delivering riders confidence their clutch will respond the way they want.
AMSOIL Spray Lubricants
Lubricate, protect, and penetrate.
AMSOIL Cleaners
Professional strength cleaners specifically designed to ensure maximum cleanliness.
AMSOIL Motorcycle Oil Filters
Guard against engine wear with larger filtration area and greater capacity to hold contaminants. Silicone Anti-Drain Back Valve to allow optimum oil pressure to be obtained quickly.