AMSOIL Shipping, Sales Tax & Product Return Information
When Will My AMSOIL Order Arrive?
Shipping AMSOIL orders to our customers promptly is important to us. More than 99% of orders placed by 5:00 p.m. Central time, Monday through Friday are shipped within 24 hours and most are delivered within three days via ground delivery.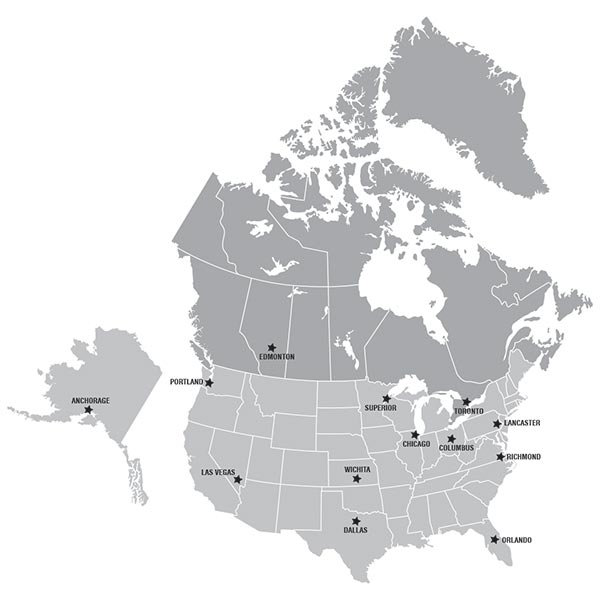 What to expect from AMSOIL
Prompt processing. 99% of orders placed by 5 p.m. Central time are processed and shipped within 24 hours*.
Fast shipping. AMSOIL Orders shipping from one of 13 AMSOIL distribution centers across the U.S. and Canada typically arrive within three business days*.
Accuracy. Get the items you ordered.
*Excludes out-of-stock, oversized and special orders and shipments to Hawaii and Alaska. Delivery time for orders shipped from Superior, Wis. or shipped to APO/FPO/DPO addresses may take longer for delivery. AMSOIL INC. is not responsible for shipping delays caused by inclement weather or other causes beyond our control.
Orders placed on weekends or major holidays are processed and shipped within three business days. Major holidays include New Year's Day (observed), Memorial Day, Independence Day, Labor Day, Thanksgiving Day, and Christmas Day (observed).
AMSOIL Shipping & Handling Policy
Orders containing only clothing and promotional materials totaling less than $20 are subject to $5 freight and handling at the time of shipment.
AMSOIL products cannot be shipped to post office boxes.
Aerosol spray cans, fuel additives and Engine and Transmission Flush cannot be shipped via air freight or parcel post.
In-stock items typically delivered within five business days.
Expedited shipping options are available by telephone.
---
Sales Tax
Because AMSOIL has Dealers in every U.S. state and Canadian province, we are required to collect sales tax on all orders shipped to states and provinces that have applicable sales tax requirements. AMSOIL INC. has an established sales tax rate for all states and provinces.
Since AMSOIL is sometimes required to collect city, county and other taxes, the tax rate AMSOIL charges may be higher than just your sales tax. AMSOIL also collects any additional taxes on lubricating products required by certain states and provinces.
Freight charges, when shipped by common carrier, are exempt from sales tax in the following states: Colorado, Florida, Idaho, Iowa, Massachusetts, Oklahoma, Utah and Wyoming.
---
AMSOIL Returns/Exchanges & Damaged Products
Products must be unopened currently marketed products in resalable condition.*
Products may be returned within 30 days of order date for full refund of purchase price and sales tax. No refund will be issued for freight charges.
Products may be exchanged within 90 days of order date with no restocking fee.
Products received in exchange must be of equal or greater value than those returned.
No exchange will involve cash refunds or credits.
Special-order items cannot be exchanged or returned.
Products must be returned to an AMSOIL distribution center at the customer's expense. Products stocked only at Superior, Wis., such as literature and filters from AMSOIL aftermarket partners, must be shipped back to Superior.
Customers who ship product ineligible for exchange to an AMSOIL distribution center are notified upon receipt and the ineligible product is held for 30 days.
"Currently marketed" refers to the product's formulation and packaging. "Resalable condition" refers to the condition of the product itself and all packaging required to resell the product.
The Distribution Center Manager will make the final determination regarding the condition and acceptance of all products considered for a return or exchange. In situations where products do not meet the return/exchange guidelines, the customer will be contacted for disposition or return of any non-compliant products. In these cases, the customer is also responsible for return freight costs.
PRODUCT DAMAGED DURING SHIPPING:
If there is visible damage to your order upon delivery, refuse the order. It will be returned to AMSOIL INC. for inspection and a new order will be sent at no extra charge to you. If you discover hidden damage after accepting delivery of your order, call 800-956-5695 for damaged product instruction.
CLOTHING RETURNS
Customers that would like to return or exchange their clothing purchase can return the item, in its original condition, within 30 days for an exchange or a refund.
Return freight charges are the customer's responsibility unless the return is due to a manufacture's defect, in which case AMSOIL will reimburse the freight charges after inspection.
Returns are not accepted based on improper care (failure to follow washing instructions) or due to normal wear and tear.
Must be currently marketed products in resalable condition.
Clothing items may be returned to:
AMSOIL INC.
Attn: Literature Dept.
1101 Susquehanna Ave.
Superior, WI 54880
Include a copy of the invoice or a detailed note with your name, account number, order number and explanation of the return/exchange. If requesting credit card reimbursement, include the credit card number and expiration date or a phone number where you can be reached.
---
Prices and availability of products are subject to change without notice. Errors will be corrected where discovered and AMSOIL reserves the right to revoke any offer or price inadvertently published due to error or omission.